DISTRICT HEATING STEAM BLEEDING POWER PLANTS
DISTRICT HEATING STEAM BLEEDING POWER PLANTS
Series "Lazio"
Steam bleeding Power Plants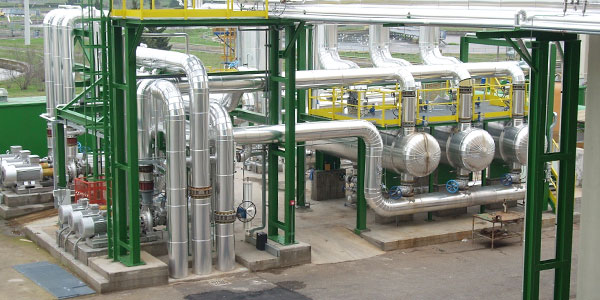 Electric and Thermal Production or CHP (virgin wood chips) Power Plants. In case of cogeneration or electricity generation only, a vector fluid (diathermic oil) heating is provided in order to indirectly generate organic fluid steam with turbomachinery (Rankine cycle, ORC) expansion. Generation of thermal energy in cogeneration process can not be adjusted independently from electricity generation. Possible integration of thermal energy can be accomplished by biomass boilers or traditional fuel.
Power Plant model suitable for district heating plants with electrical power lower than 2 MWel. Same as for ""Brianza"" series, electrical energy generated by this plant type is patronized through "green certificates" for higher than 1 MWel powers and by all-inclusive tarif for powers under 1 MWel. District heating is almost always required for authorize reasons and for a good profitability it shall not cost more than € 800.000,00 for each nominal MWt installed.
- Electric Power: 0.2 to 2 MWel
- Thermal power: 0.5 to 20 MWt
- Cycle: CHP Organic Rankine
- Fuel: virgin woodchips
- Feasibility study reference: TN1, TN3
- Max electric efficiency: 18%
- Max overall efficiency: 85%
- Certification: CE / PED as a wholeasd
Mod. Lazio
District Heating Energy Generating Steam bleeding Power Plants.
POS.
Model
Thermal Power
(MWt)
Exchangers quantity
Feed Steam Pressure
(barg)
Feed Steam Temp
(°C)
District Heating Side
Pressure Drop
(bar)
54
Lazio 5
5
1
0,5÷25
105÷250
< 0,5
55
Lazio 10
10
1
0,5÷25
105÷250
< 0,5
56
Lazio 15
15
2
0,5÷25
105÷250
< 0,5
57
Lazio 30
30
2
0,5÷25
105÷250
< 0,5
68
Lazio 50
50
3
0,5÷25
105÷250
< 0,5
69
Lazio 100
100
4
0,5÷25
105÷250
< 0,5
60
Lazio 150
150
4
0,5÷25
105÷250
< 0,5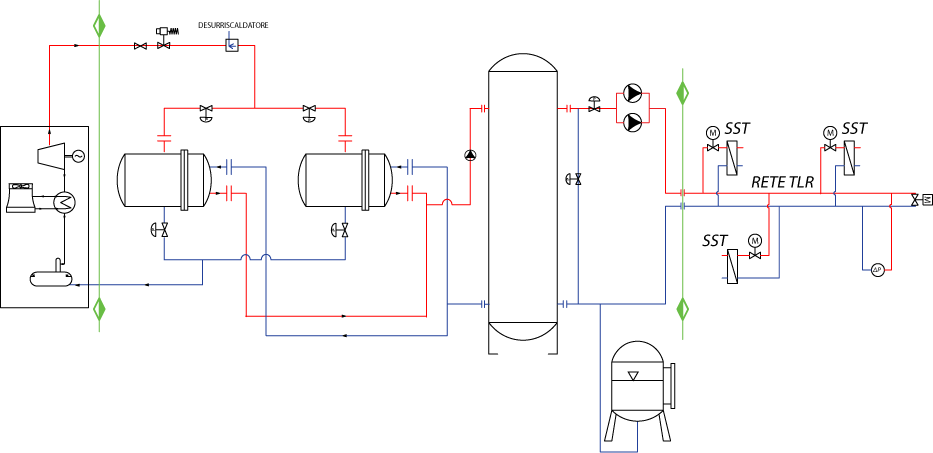 HOT WATER
SUPERHEATED WATER
COOLING
THERMAL DESIGN
DISCTRICT HEATING CIRCUIT
90/65°C
115/65°C
7/11°C
MECHANICAL DESIGN
DISCTRICT HEATING CIRCUIT
PN16÷PN25
PN16÷PN25
PN16÷PN25
THERMAL DESIGN
SUBSTATIONS SECONDARY CIRCUIT
85/55°C
85/55°C
14/8°C
NOMINAL PRESSURE LOSS
SUBSTATIONS PRIMARY AND SECONDARY CIRCUITS
10/3 w.c.m.
10/3 w.c.m.
10/3 w.c.m.
FLUID SPEED
DISCTRICT HEATING CIRCUIT
0,5÷2 m/s
0,5÷2 m/s
0,5÷2 m/s
CENTRAL CONDUIT PUMPS HEAD
0,5÷9 bar
0,5÷9 bar
0,5÷9 bar
PRESSURE LOSS POWER PLANT INNER CIRCUIT
0,5÷1,5 bar
0,5÷1,5 bar
0,5÷1,5 bar