PUMPING SYSTEMS
PUMPING SYSTEMS
Series "Roma"
Pumping Systems


Pumping systems for district heating networks consisting of 2 to 6 pumps in parallel. The system comes as "package", complete with shut-off valves, control and safety devices as well as with electric control board for regulation through inverter and is ready for remote control and integration with supervision systems through existing free and unified protocols. The integration between the control system and inverter is essential to optimize the system in both economic and functional terms. In fact, the management logic, along with the flow measurement assistance, always allow the use of pumps in best efficiency spots. The sequence of operation and exchange of the pumps is automated and controlled through the measurement of ΔP on central conduit, possibly compensated with end of network ​ΔP values or network's most underprivileged spots ΔP values as well.
- Flow Rate: 50 to 1000 m3 / h
- Head: 10 to about 120 w.c.m.
- District Heating max Temperature: 150 ° C.
- Max pressure: 25 barg."ds
Mod. Roma
Hot/Overheated water District Heating Pumping Groups.
POS.
Model
Nominal Flow Rate
(m³/h)
Nominal Head
(bar)
Pumps on
service
stand-by
pumps
Per pump
installed electric
power(kW)
Hydraulic
Design
(barg)
Design Temp
(°C)
94
Roma 50
50
3/6
1
1
7,5/15
PN10 / PN16 / PN25
120/135/150
95
Roma 75
75
3/6
1
1
11/22
PN10 / PN16 / PN25
120/135/150
96
Roma 100
100
3/6
1
1
11/30
PN10 / PN16 / PN25
120/135/150
97
Roma 150
150
3/6/9
1
1
15/37/55
PN10 / PN16 / PN25
120/135/150
98
Roma 250
250
3/6/9
1
1
30/55/90
PN10 / PN16 / PN25
120/135/150
99
Roma 500
500
3/6/9
2
1
30/55/90
PN10 / PN16 / PN25
120/135/150
100
Roma 750
750
3/6/9
3
1
30/55/90
PN10 / PN16 / PN25
120/135/150
101
Roma 1000
1000
3/6/9
4
1
30/55/90
PN10 / PN16 / PN25
120/135/150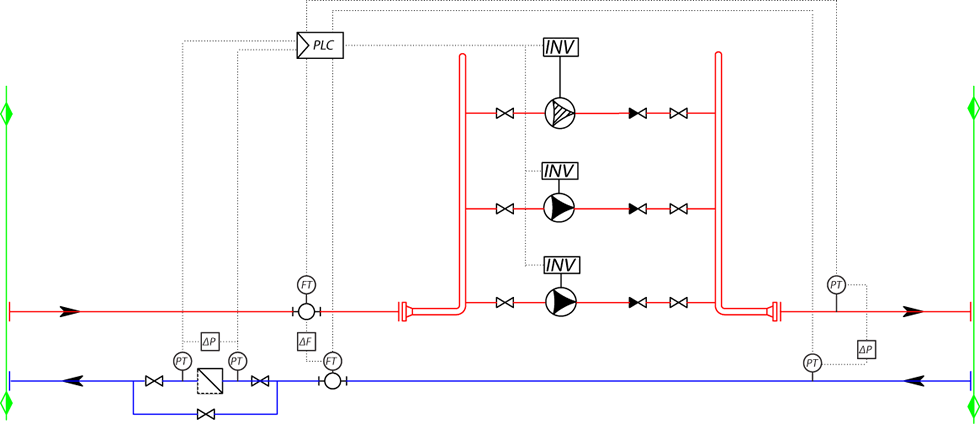 HOT WATER
SUPERHEATED WATER
COOLING
THERMAL DESIGN
DISCTRICT HEATING CIRCUIT
90/65°C
115/65°C
7/11°C
MECHANICAL DESIGN
DISCTRICT HEATING CIRCUIT
PN16÷PN25
PN16÷PN25
PN16÷PN25
THERMAL DESIGN
SUBSTATIONS SECONDARY CIRCUIT
85/55°C
85/55°C
14/8°C
NOMINAL PRESSURE LOSS
SUBSTATIONS PRIMARY AND SECONDARY CIRCUITS
10/3 w.c.m.
10/3 w.c.m.
10/3 w.c.m.
FLUID SPEED
DISCTRICT HEATING CIRCUIT
0,5÷2 m/s
0,5÷2 m/s
0,5÷2 m/s
CENTRAL CONDUIT PUMPS HEAD
0,5÷9 bar
0,5÷9 bar
0,5÷9 bar
PRESSURE LOSS POWER PLANT INNER CIRCUIT
0,5÷1,5 bar
0,5÷1,5 bar
0,5÷1,5 bar