RECOVERY BOILERS
RECOVERY BOILERS
Series "Brescia"
Recovery Boilers


High Efficiency Recovery Boilers for hot/overheated water district heating networks through gases combustion from Otto cycle engines, Joule cycle turbines or industrial processes.
In order to increase the thermodynamic efficiency optional condensation modules are provided. Boilers are equipped with shut-off valves, control and safety devices, as well as electrical control panel, regulation, monitoring and data transmission, and are ready for remote control and integration with existing monitoring systems on free and unified protocols as well.
- Mod Brescia 1: water-tube
- Mod Brescia 2: fire-tube
- Thermal power: 2.5 to 50 MWt.
- Max flue gases temp: 550 ° C.
- District Heating max Temperature: 135 ° C.
- Max pressure: 25 barg.
- Certifications: CE / PED.
Mod. Brescia 1/2
District Heating water-tube or fire-tube Recovery Boiler.
POS.
Model
Thermal Power
(MWt)
Tin fumi
(°C)
Tout fumi
(°C)
progetto IDRAULICO
CONTROPRESSIONE FUMI
(mm c.a.)
District Heating Side
Pressure Drop
(bar)
78
Brescia 1/2 - 250
2,5
200÷550
140÷60
PN10÷PN25
50÷260
< 0,5
79
Brescia 1/2 - 500
5
200÷550
140÷60
PN10÷PN25
50÷260
< 0,5
80
Brescia 1/2 - 1000
10
200÷550
140÷60
PN10÷PN25
50÷260
< 0,5
81
Brescia 1/2 - 1500
15
200÷550
140÷60
PN10÷PN25
50÷260
< 0,5
82
Brescia 1/2 - 2000
20
200÷550
140÷60
PN10÷PN25
50÷260
< 0,5
83
Brescia 1/2 - 3000
30
200÷550
140÷60
PN10÷PN25
50÷260
< 0,5
84
Brescia 1/2 - 5000
50
200÷550
140÷60
PN10÷PN25
50÷260
< 0,5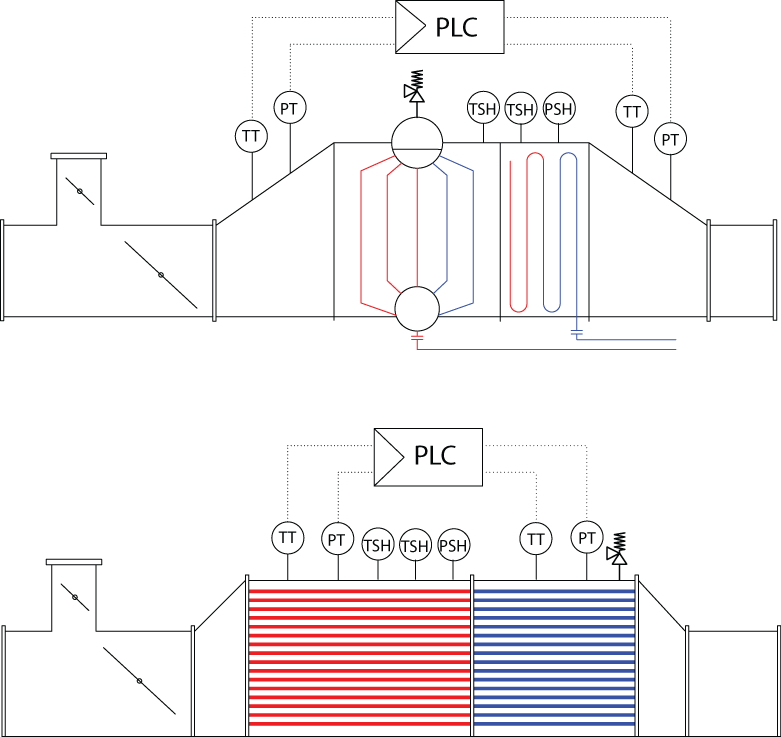 HOT WATER
SUPERHEATED WATER
COOLING
THERMAL DESIGN
DISCTRICT HEATING CIRCUIT
90/65°C
115/65°C
7/11°C
MECHANICAL DESIGN
DISCTRICT HEATING CIRCUIT
PN16÷PN25
PN16÷PN25
PN16÷PN25
THERMAL DESIGN
SUBSTATIONS SECONDARY CIRCUIT
85/55°C
85/55°C
14/8°C
NOMINAL PRESSURE LOSS
SUBSTATIONS PRIMARY AND SECONDARY CIRCUITS
10/3 w.c.m.
10/3 w.c.m.
10/3 w.c.m.
FLUID SPEED
DISCTRICT HEATING CIRCUIT
0,5÷2 m/s
0,5÷2 m/s
0,5÷2 m/s
CENTRAL CONDUIT PUMPS HEAD
0,5÷9 bar
0,5÷9 bar
0,5÷9 bar
PRESSURE LOSS POWER PLANT INNER CIRCUIT
0,5÷1,5 bar
0,5÷1,5 bar
0,5÷1,5 bar