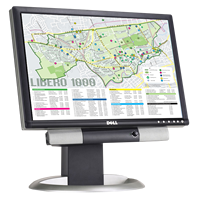 Supervision and control System specialized in management and optimization of district heating Power Plants that also integrates metering, reading and control functions of user substations.
This system can be regarded as the consolidation of more than 10 years of experience in designing, building and operating district heating power plants and substations and is based on a standard architecture with operating logics, graphics pages and operating schemes already preconfigured and tested, albeit customizable when needed. Along with the software are available a number of hardware components both regarding regulation and measure and data transmission, making it among the most complete systems available on the market. The management system described can be considered, in its full configuration, a single system that supervises, controls and exchanges data, from the electricity provider control interface cabin to the most remote user substation. Such feature allows to optimize and saturate the power plant infrastructure already implemented or to be made, ​​to reduce operating costs and improve the performance of the whole plant.
The functional characteristics of the system are as follows:
Remote control of user substations throughout all the settings and operations.
Automatic remote metering of all users connected to the network.
Supervision and remote control of energy production power plants.
monitoring , network equipment control, operating parameters transmission (end of network by-pass valves, pressure measurement, ΔP measurement, re-launching pumps, storage tanks, etc.)..
Power plant supervisioning system integration with network and substations management system.
Alarms and reporting policies management of substations and power plants network monitoring .
Pump system management set according to the thermal load through differential pressure levels in power plant compensated with network most disadvantaged spots measured values.
Network thermal storage system management to reduce power peaks (mostly at start-up).
Spread pumping system management and possible integration (re-launching).
Any in-plant or network-spread storage system management.
District Heating Plant and single substations operating data gathering and storage for trend analysis and management optimization.
Equipment and systems integration.
HARDWARE
Max digital managed: 10,000 points
Max analog managed: 4,000 points
Protocol used: open, free and unified (Profibus, Modbus, CANbus, m-bus, Ethernet, etc.)
System structure: vertical with specialized, autonomous and independent peripherals.
CPU unit: embedded management and governance for monitoring and data storage.
LIBERO SCADA Management System
Mod. Libero Scada
Management software for district heating plants
| POS. | Model | PRODUCT DESCRIPTION |
| --- | --- | --- |
| 132 | SW SCADA | Energy production plants and distribution networks Supervision Software |
| 133 | MLC SCADA | Heat meters automatic remote reading module |
| 134 | MC SCADA | Monitoring and remote management of conventional power stations module |
| 135 | MA SCADA | Power stations, networks and peripherals alarm management module |
| 136 | MT SCADA | Trend module, data analysis and logging of all operating parameters |
| 137 | MRH SCADA | District Heating systems optimization module (Robin Hood) |
| 138 | MF SCADA | Consumption billing module and automatic bills generation |
| 139 | AVD SCADA | Freely configurable specialized device (industrial PLC) |
| | AVD 500 | Freely configurable device mainly specialized in regulation and control of district heating user substations |
| | SW 500 | Remote metering and control software for district heating systems |