DISTRICT HEATING EMERGENCY MOBILE POWER PLANTS
DISTRICT HEATING EMERGENCY MOBILE POWER PLANTS
Series "Rosenheim"
Emergency Mobile Power Plant


District Heating networks emergency mobile Thermal Energy generation Power Plants. Built in one or more modules depending on power value. Complete with heat production boiler, pump and expansion groups, generator and fuel tanks.
This power plant model, fully transportable, autonomous and independent, is suitable for temporary installation on networks or for users not yet provided with the district heating service.
- Thermal Power: 0,5 to 4 MWt
- Pumping: 10 to 50 m³ / h
- Hydraulic design: PN16
- District Heating max T: 95 ° C
- Cycle: boiler + Diesel
- Fuel: Diesel
- Certifications: CE / PED as a whole
Mod. Rosenheim
District Heating Emergency Mobile Power Plants.
POS.
Model
Thermal Power
(MWt)
Electric Power
(kWel)
Modules #
Working Time range
(h)
Nominal Flow Rate
(m³/h)
Hydraulid Design
District Heating max Temp
(°C)
61
Roseneim - 500
0,5
50
1
7
20
PN16
95
62
Roseneim - 1000
1
100
1/2
7
40
PN16
95
63
Roseneim - 2000
2
200
1/2
7
80
PN16
95
64
Roseneim - 3000
3
300
2
7
120
PN16
95
65
Roseneim - 4000
4
400
2
7
160
PN16
95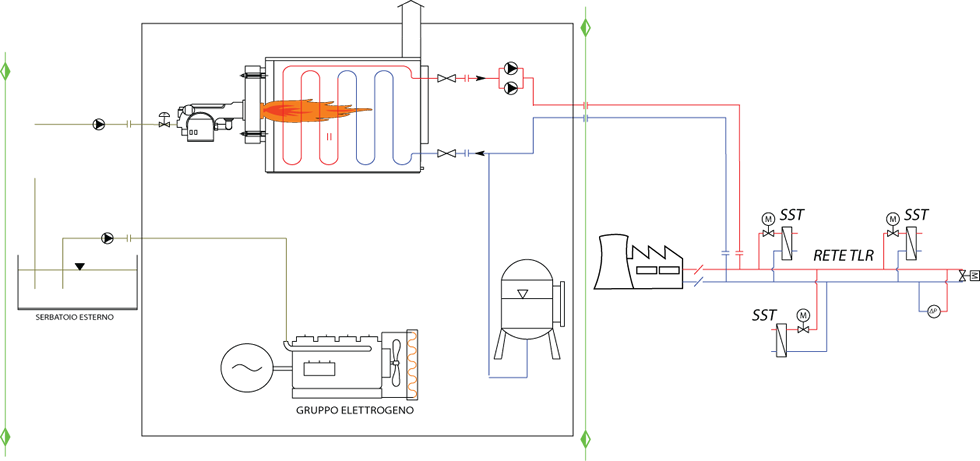 HOT WATER
SUPERHEATED WATER
COOLING
THERMAL DESIGN
DISCTRICT HEATING CIRCUIT
90/65°C
115/65°C
7/11°C
MECHANICAL DESIGN
DISCTRICT HEATING CIRCUIT
PN16÷PN25
PN16÷PN25
PN16÷PN25
THERMAL DESIGN
SUBSTATIONS SECONDARY CIRCUIT
85/55°C
85/55°C
14/8°C
NOMINAL PRESSURE LOSS
SUBSTATIONS PRIMARY AND SECONDARY CIRCUITS
10/3 w.c.m.
10/3 w.c.m.
10/3 w.c.m.
FLUID SPEED
DISCTRICT HEATING CIRCUIT
0,5÷2 m/s
0,5÷2 m/s
0,5÷2 m/s
CENTRAL CONDUIT PUMPS HEAD
0,5÷9 bar
0,5÷9 bar
0,5÷9 bar
PRESSURE LOSS POWER PLANT INNER CIRCUIT
0,5÷1,5 bar
0,5÷1,5 bar
0,5÷1,5 bar