EXPANSION TANK SYSTEMS
EXPANSION TANK SYSTEMS
Series "Verona"
Expansion Tank Systems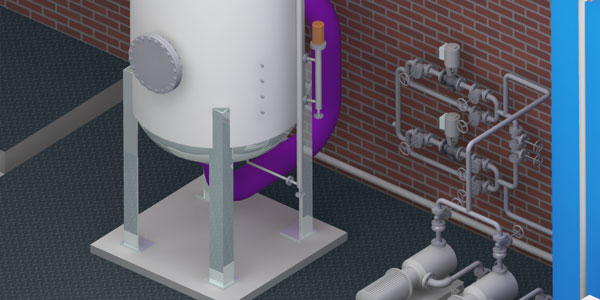 Expansion Tank Systems designed and specialized in district heating Networks and Plants arranged in accordance with hot/overheated water network capacity. The system is mounted as "package" up to transportable size, for bigger sizes separate expansion tank and air storage are provided. Complete with shut-off valves, control and safety devices, as well as with electrical control board which is ready for remote control and integration with existing monitoring systems on free and unified protocols.
- Mod Verona 1: hot-water networks
- Mod Verona 2: hot/overheated water networks
- Max network capacity: 2500 m3
- District Heating max Temperature: 135 ° C.
- Max pressure: 25 barg.
- Certifications: CE / PED
Mod. Verona
Hot/Overheated water District Heating Expansion Tank Systems.
POS.
Model
Expansion ability
(m³)
Hot water network
max capacity (m³)
Overheated water network
max capacity (m³)
Design Temp
(°C)
Hydraulic Design
102
Verona 1/2 - 10
1
24
-
95/135
PN6÷PN10
103
Verona 1/2 - 20
2
47
-
95/135
PN6÷PN10
104
Verona 1/2 - 50
5
118
-
95/135
PN6÷PN10
105
Verona 1/2 - 100
10
236
-
95/135
PN6÷PN10
106
Verona 1/2 - 150
15
354
-
95/135
PN6÷PN10
107
Verona 2 - 100
10
236
142
95/135
PN10÷PN25
108
Verona 2 - 200
20
472
283
95/135
PN10÷PN25
109
Verona 2 - 500
50
1181
708
95/135
PN10÷PN25
110
Verona 2 - 750
75
1771
1063
95/135
PN1 0÷PN25
111
Verona 2 - 1000
100
2361
1417
95/135
PN10÷PN25
Mod. Verona 1

Mod. Verona 2

HOT WATER
SUPERHEATED WATER
COOLING
THERMAL DESIGN
DISCTRICT HEATING CIRCUIT
90/65°C
115/65°C
7/11°C
MECHANICAL DESIGN
DISCTRICT HEATING CIRCUIT
PN16÷PN25
PN16÷PN25
PN16÷PN25
THERMAL DESIGN
SUBSTATIONS SECONDARY CIRCUIT
85/55°C
85/55°C
14/8°C
NOMINAL PRESSURE LOSS
SUBSTATIONS PRIMARY AND SECONDARY CIRCUITS
10/3 w.c.m.
10/3 w.c.m.
10/3 w.c.m.
FLUID SPEED
DISCTRICT HEATING CIRCUIT
0,5÷2 m/s
0,5÷2 m/s
0,5÷2 m/s
CENTRAL CONDUIT PUMPS HEAD
0,5÷9 bar
0,5÷9 bar
0,5÷9 bar
PRESSURE LOSS POWER PLANT INNER CIRCUIT
0,5÷1,5 bar
0,5÷1,5 bar
0,5÷1,5 bar