FILTRATION SYSTEMS
FILTRATION SYSTEMS
Series "Bergamo"
Filtration Systems


Bag type Filtration Systems for district heating networks and plants designd in accordance with network nominal flow rates and degree of filtration desired. The system is mounted as "package" with single or twin body for flow rate and maintenance reasons. It comes complete with control, metering and safety devices, as well as fouling meter and transmitter suitable for integration into existing supervisory systems via analog and digital standard and unified signals. The filtration degree can also be varied along operation depending on the fouling observed.
- Nominal flow rate: 35 to 2000 m3 / h.
- Filtering degree: 1 to 1000 μm.
- Pressure drop: <0.3 bar.
- District Heating max Temperature: 135 ° C.
- Max pressure: 25barg
- Certifications: CE / PED.
Mod. Bergamo
District Heating networks Bag Filters groups.
POS.
Model
Nominal Flow Rate
(m³/h)
in parallel filters
Capacità S/D
(l)
h
(mm)
d
(mm)
BOCCHELLI
in/out
Hydraulic Design
Design Temp
(°C)
122
Bergamo 35
35
1/2
73/146
1184
324
DN100
PN10÷PN25
135
123
Bergamo 70
70
1/2
156/146
1250
457
DN125
PN10÷PN25
135
124
Bergamo 100
100
1/2
156/312
1250
457
DN125
PN10÷PN25
135
125
Bergamo 150
150
1/2
156/312
1250
457
DN125
PN10÷PN25
135
126
Bergamo 300
300
1/2
390/312
1800
558
DN300
PN10÷PN25
135
127
Bergamo 500
500
1/2
390/780
1800
558
DN300
PN10÷PN25
135
128
Bergamo 1000
1000
1/2
765/780
2410
711
DN400
PN10÷PN25
135
129
Bergamo 2000
2000
2
1530
2410
711
DN400
PN10÷PN25
135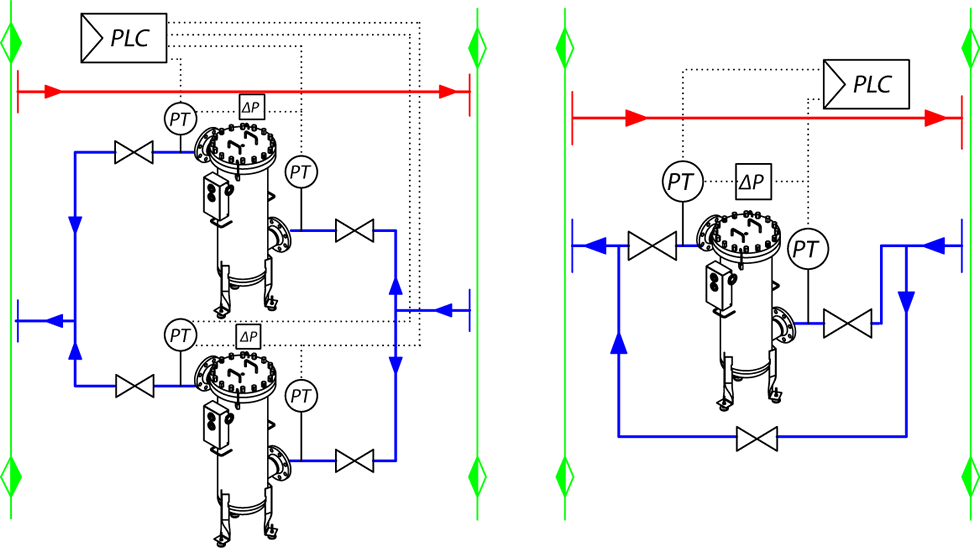 HOT WATER
SUPERHEATED WATER
COOLING
THERMAL DESIGN
DISCTRICT HEATING CIRCUIT
90/65°C
115/65°C
7/11°C
MECHANICAL DESIGN
DISCTRICT HEATING CIRCUIT
PN16÷PN25
PN16÷PN25
PN16÷PN25
THERMAL DESIGN
SUBSTATIONS SECONDARY CIRCUIT
85/55°C
85/55°C
14/8°C
NOMINAL PRESSURE LOSS
SUBSTATIONS PRIMARY AND SECONDARY CIRCUITS
10/3 w.c.m.
10/3 w.c.m.
10/3 w.c.m.
FLUID SPEED
DISCTRICT HEATING CIRCUIT
0,5÷2 m/s
0,5÷2 m/s
0,5÷2 m/s
CENTRAL CONDUIT PUMPS HEAD
0,5÷9 bar
0,5÷9 bar
0,5÷9 bar
PRESSURE LOSS POWER PLANT INNER CIRCUIT
0,5÷1,5 bar
0,5÷1,5 bar
0,5÷1,5 bar