INTEGRATION BOILERS
INTEGRATION BOILERS
Series "Monza"
Emergency/Integration Boilers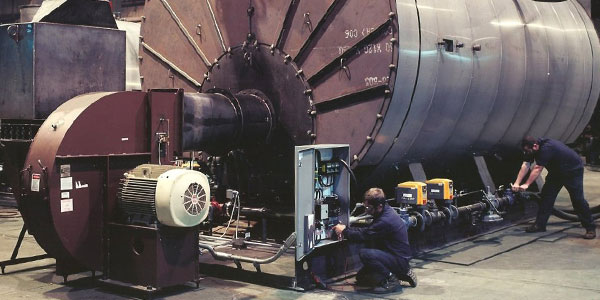 High performance Emergency/Integration Boilers designed and specialized for hot or overheated water district heating operation. Where possible, Emergency/Integration Boilers | Series Monzathese boilers can be implemented by a condensation module in order to increase the thermodynamic efficiency. Two construction types are provided: the first fire-tube and the second water-tube, depending on application. Boilers are equipped with shut-off valves, control and safety devices, as well as electrical control panel, regulation, monitoring and data transmission, and are ready for remote control and integration with existing monitoring systems on free and unified protocols as well.
This family of boilers completes the CHP plant on the heat production side, adding in to the power produced by the cogeneration recovery boilers. Another application is to help in case of CHP group maintenance.
- Thermal Power: 0.5 to 50 MWt.
- District Heating max Temperature: 135 ° C.
- Hydraulic Design: PN16.
- Overall max efficiency: 98%.
- Certifications: CE / PE as a whole.
Mod. Monza
District Heating emergency or Integration boilers
POS.
Model
District Heating
Thermal Power (MWt)
Hydraulic
Design
Working Temp
(°C)
Efficiency (%)
66
Caldaia M - 500
0,5
PN 10 ÷ PN 25
90 o 105
95
67
Caldaia M - 750
0,75
PN 10 ÷ PN 25
90 o 105
95
68
Caldaia M - 1000
1
PN 10 ÷ PN 25
90 o 105
95
69
Caldaia M - 1500
1,5
PN 10 ÷ PN 25
90 o 105
96
70
Caldaia M - 2000
2
PN 10 ÷ PN 25
90 o 105
96
71
Caldaia M - 3000
3
PN 10 ÷ PN 25
90 o 105
96
72
Caldaia M - 4000
4
PN 10 ÷ PN 25
90 o 105
96
73
Caldaia M - 5000
5
PN 10 ÷ PN 25
90 o 105
98
74
Caldaia M - 7500
7,5
PN 10 ÷ PN 25
90 o 105
98
75
Caldaia M - 10000
10
PN 10 ÷ PN 25
90 o 105
98
76
Caldaia M - 15000
15
PN 10 ÷ PN 25
90 o 105
98
77
Caldaia M - 20000
20
PN 10 ÷ PN 25
90 o 105
98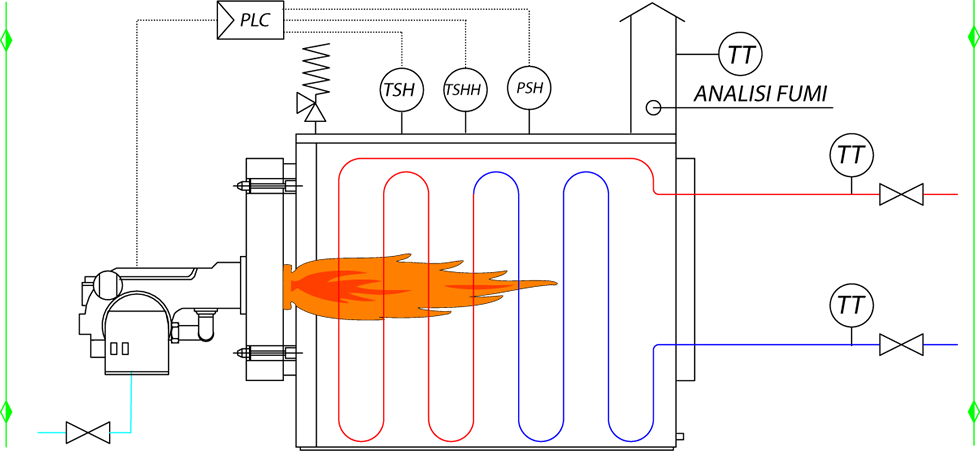 HOT WATER
SUPERHEATED WATER
COOLING
THERMAL DESIGN
DISCTRICT HEATING CIRCUIT
90/65°C
115/65°C
7/11°C
MECHANICAL DESIGN
DISCTRICT HEATING CIRCUIT
PN16÷PN25
PN16÷PN25
PN16÷PN25
THERMAL DESIGN
SUBSTATIONS SECONDARY CIRCUIT
85/55°C
85/55°C
14/8°C
NOMINAL PRESSURE LOSS
SUBSTATIONS PRIMARY AND SECONDARY CIRCUITS
10/3 w.c.m.
10/3 w.c.m.
10/3 w.c.m.
FLUID SPEED
DISCTRICT HEATING CIRCUIT
0,5÷2 m/s
0,5÷2 m/s
0,5÷2 m/s
CENTRAL CONDUIT PUMPS HEAD
0,5÷9 bar
0,5÷9 bar
0,5÷9 bar
PRESSURE LOSS POWER PLANT INNER CIRCUIT
0,5÷1,5 bar
0,5÷1,5 bar
0,5÷1,5 bar