THERMAL STORAGE SYSTEMS
THERMAL STORAGE SYSTEMS
Series "Trieste"
Thermal Storage Systems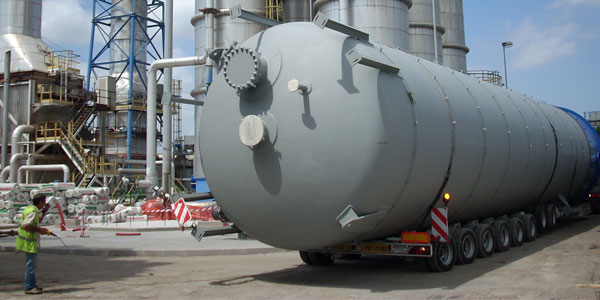 Heat storage systems designed and specialized in hot/overheated water district heating networks made-up of 1 to 8 tanks in parallel. Up to 250 m³ capacity tanks are transportable, even if as special cargo. Beyond this limit they will be built on site. The system comes complete with shut-off valves, control and safety devices, as well as the electrical control panel, regulation, monitoring and data transmission, including provision for remote control and integration on the supervisory systems via existing free and unified protocols.
The most appropriate application, and above all most useful, happens to be in systems where it is advisable or even necessary to stabilize power peaks and use the energy produced in off-peak hours to be used during full peak ones.
- Mod. Trieste 1: hot-water networks
- Mod. Trieste 2: overheated water networks
- Thermal power: 1.5 to 115 MWt
- Volumetric capacity: 50 to 2500 m3
- District Heating max Temperature: 135 ° C.
- Max pressure:16 barg
- Certifications: CE / PED
Mod. Trieste
Hot water Thermal Storage Systems (TRIESTE 1) or overheated water (TRIESTE 2) for district heating networks.
POS.
Model
Hot/overheated
water tanks #
Capacity
(m³)
STORABLE POWER
Hot water
(MWt)
STORABLE POWER
overheated water
(MWt)
Design Temp
(°C)
Hydraulic Design
112
Trieste 1/2 - 50
1/1
50
1,5
2,5
100/135
PN6÷PN16
113
Trieste 1/2 - 100
1/1
100
3
5
100/135
PN6÷PN16
114
Trieste 1/2 - 150
1/1
150
4,5
7
100/135
PN6÷PN16
115
Trieste 1/2 - 200
1/1
200
6
9
100/135
PN6÷PN16
116
Trieste 1/2 - 250
1/1
250
7
12
100/135
PN6÷PN16
117
Trieste 1/2 - 500
1/2
500
15
25
100/135
PN6÷PN16
118
Trieste 1/2 - 1000
2/4
1000
30
50
100/135
PN6÷PN16
119
Trieste 1/2 - 1500
3/6
1500
45
70
100/135
PN6÷PN16
120
Trieste 1/2 - 2000
4/8
2000
60
90
100/135
PN6÷PN16
121
Trieste 1/2 - 2500
5/10
2500
75
115
100/135
PN6÷PN16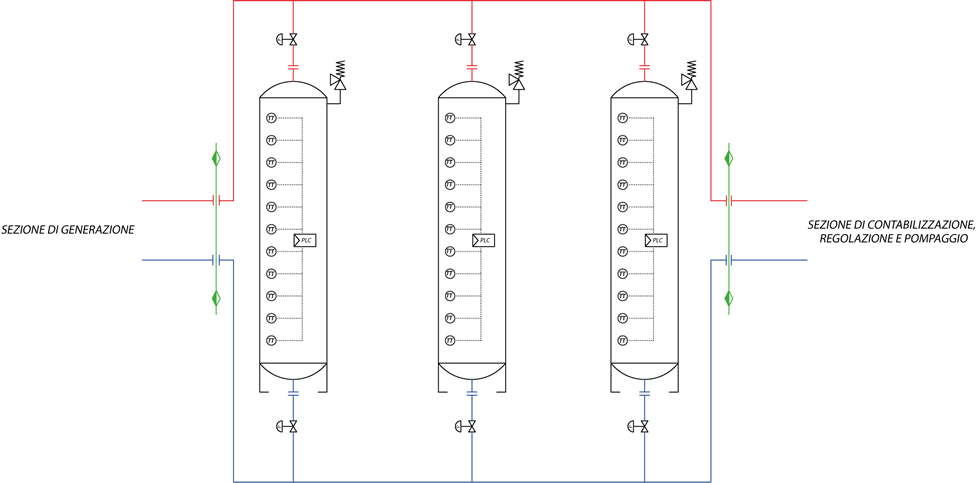 HOT WATER
SUPERHEATED WATER
COOLING
THERMAL DESIGN
DISCTRICT HEATING CIRCUIT
90/65°C
115/65°C
7/11°C
MECHANICAL DESIGN
DISCTRICT HEATING CIRCUIT
PN16÷PN25
PN16÷PN25
PN16÷PN25
THERMAL DESIGN
SUBSTATIONS SECONDARY CIRCUIT
85/55°C
85/55°C
14/8°C
NOMINAL PRESSURE LOSS
SUBSTATIONS PRIMARY AND SECONDARY CIRCUITS
10/3 w.c.m.
10/3 w.c.m.
10/3 w.c.m.
FLUID SPEED
DISCTRICT HEATING CIRCUIT
0,5÷2 m/s
0,5÷2 m/s
0,5÷2 m/s
CENTRAL CONDUIT PUMPS HEAD
0,5÷9 bar
0,5÷9 bar
0,5÷9 bar
PRESSURE LOSS POWER PLANT INNER CIRCUIT
0,5÷1,5 bar
0,5÷1,5 bar
0,5÷1,5 bar